Cambridge New Zealand (+64) 7-823 3435
email: info@lepapillondayspa.co.nz
Cambridge's Boutique Day Spa
Le Papillon Day Spa In Cambridge has been created as an escape for everybody to enjoy. Just a 20 min drive from Hamilton. It is small, exclusive rural retreat, offering you all you can expect from a Day Spa. As there is one therapist there are limits to the size of the groups.

At Le Papillon Day Spa I use the natural Janesce Skin Care Products. Janesce is not just a skin care it is a life philosophy. Offering menus for specific skin conditions, you will learn to work from the inside out. Only by taking care of your whole body can your skin look good.
I offer regular beauty treatments and Spa packages:
Group Spa Packages, 3 to 4 people, come and enjoy a massage or facial and the Spa facilities.
Hens Parties, bring your bridesmaids, 4 to 5 ladies, along and unwind before the big day.
Individual or Duo Spa packages. The treatments will be given one at a time so there is more time to relax while one person is enjoying their treatment.
Beauty treatments like; facials, massages, manicures, pedicures


Time out package
Includes a 30 min Back Massage, 60 min Revitalizing Facial and complimentary eyelash tint.
Product of the month!
Bestow Beauty Oil is a wonderful food for skin. It's your edible cosmetic, making your skin soft, smooth and velvety. Bestow Beauty Oil is able to do this because it contains high levels of Essential Fatty Acids (Omega-3 and Omega-6) that are not only vital for your health but also the beauty and vitality of your skin.
Unlike most fats, your body cannot produce Omega-3 and -6 this is why they are called vitamin F. We have created Bestow Beauty Oil: a blend of organic, unrefined, extra virgin seed oils cold-pressed from flax and golden flax to provide you with a source of these Essential Fatty Acids. Bestow Beauty Oil is a bit like fish oil only better tasting and containing more essential fatty acids for your wellbeing.
In the 'Shop' you can purchase gift vouchers for a treatment or a cash value. For terms and conditions see
About Le Papillon
You can also purchase skin care products online for your convenience.
*Whenever you purchase a Gift Voucher can you please state the name of the person who is receiving the voucher and if you would like me to add a message I can do that as well.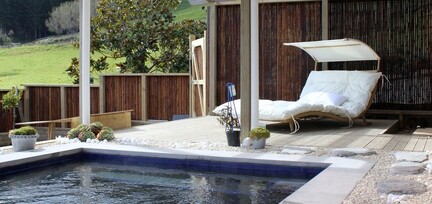 So so relaxing, thanks again for an incredible massage + a wonderful afternoon in gorgeous surroundings. We feel regenerated, rejuvinated + ready to take on the Christmas rush! :)
AMAZING!! Thank you so much! absolutely lovely experience, a wonderful birthday treat.
Should you wish to amend or cancel your appointment, please give me at least 24 hours' notice to avoid being charged the full treatment costs for unused spa room and therapists time. For groups of 4 or more I require 48 hours' notice for appointment alterations or cancellations. This is also required when you are using a voucher. When confirming a Spa Package a $50.00 non-refundable deposit is required.
When booking your treatments try to book at least a week in advance to avoid disappointment.
Bookings can be made BY APPOINTMENT only. Le Papillon Day Spa is CLOSED on Sunday's, Monday's and all Public Holiday's.