535 Aspin Road, Cambridge New Zealand (0064) 07-823 3435
Looking to spoil your mother this Mother's Day?
De-stress massage for mum in a serene aromatherapy candle lit room with fresh cut flowers and soothing music followed by chocolate, champagne in a hot spa bath. $100.00
Mother/daughter hot spa then 30 minute mini facial, a cup of tea and a decadent white chocolate raspberry muffin during a 30 min mini-pedicure. $135.00 pp
Hydrating Rose Facial with eyebrow shape, back massage and mini manicure; shape of the nails, a hand massage with softening hand lotion and polish. Finished with a Mothers Bouquet tea. For $170.00.
Cambridge's Boutique Day Spa
Le Papillon Day Spa In Cambridge has been created as an escape for everybody to enjoy. Just a 20 min drive from Hamilton. It is small, exclusive country retreat, offering you all you can expect from a Day Spa. As there is one therapist there are limits to the size of the groups.
I offer regular beauty treatments and Spa packages:
Group Spa Packages, 3 to 4 people, come and enjoy a massage or facial and the Spa facilities.
Hens Parties, bring your bridesmaids, 4 to 5 ladies, along and unwind before the big day.
Individual or Duo Spa packages. The treatments will be given one at a time so there is more time to relax while one person is enjoying their treatment.
Beauty treatments like, facials, massages, manicures, pedicures
At Le Papillon Day Spa I use the natural Janesce Skin Care Products. Janesce is not just a skin care it is a life philosophy. Offering menus for specific skin conditions, you will learn to work from the inside out. Only by taking care of your whole body can your skin look good.
A Gift Voucher is a wonderful present to give someone. A lot of people don't pamper themselves so receiving a 'pass' to do so is very much appreciated. You can purchase vouchers for a set value or for a treatment. The gift vouchers are valid for 6 months.
All Gift vouchers need to be presented at reception in order to be redeemed, I cannot redeem vouchers based on just a voucher number.
Gift voucher expiry dates are final and I do not offer extensions, unless it is due to illness.
Please note there are no refunds on vouchers.
Should your gift voucher go missing, I will endeavor to find your voucher number in my system. To assist with the search I will require your name, the name of the person who purchased the voucher, the general date it was purchased, and what the voucher was made out for. Should your voucher be found I can reissue it for a charge of $5.00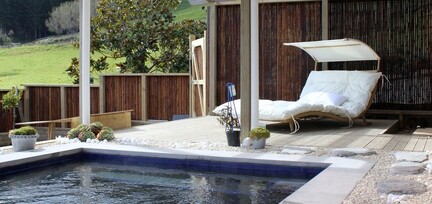 So so relaxing, thanks again for an incredible massage + a wonderful afternoon in gorgeous surroundings. We feel regenerated, rejuvinated + ready to take on the Christmas rush! :)
AMAZING!! Thank you so much! absolutely lovely experience, a wonderful birthday treat.
Bookings can be made BY APPOINTMENT only. Le Papillon Day Spa is CLOSED on Sunday's, Monday's and all Public Holiday's.